Welcome – Enrich your life with us!
We have been serving seniors in Headingley for many years. A coordinator keeps us organized and enthusiastic volunteers share their time and talents. We receive some government funding to offer services, we raise funds for our social activities and partner with the Macdonald Headingley Recreation District to offer fitness and arts programs. We encourage those 55 and older to join us for learning opportunities, social events, fitness and fun. Browse our website and calendar for what is currently happening.
Our Mission
To encourage seniors to maintain independent living and improve their quality of life by providing education, recreation, health and social opportunities.
Headingley Community Foundation grant
Headingley Seniors' Services Inc. would like to thank the Headingley Community Foundation for selecting HSSI as a recipient of a 2018 grant.
The grant will be used for the purchase of a Projector and MS Publisher Software.  The projector will be used for the Lunch and Learn series, and other guest speakers using the Headingley Community Centre.  The software will be used to produce a monthly newsletter along with other informative, promotional and outreach initiatives.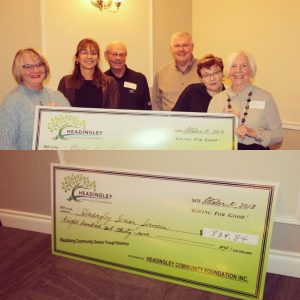 Musical GrandFriends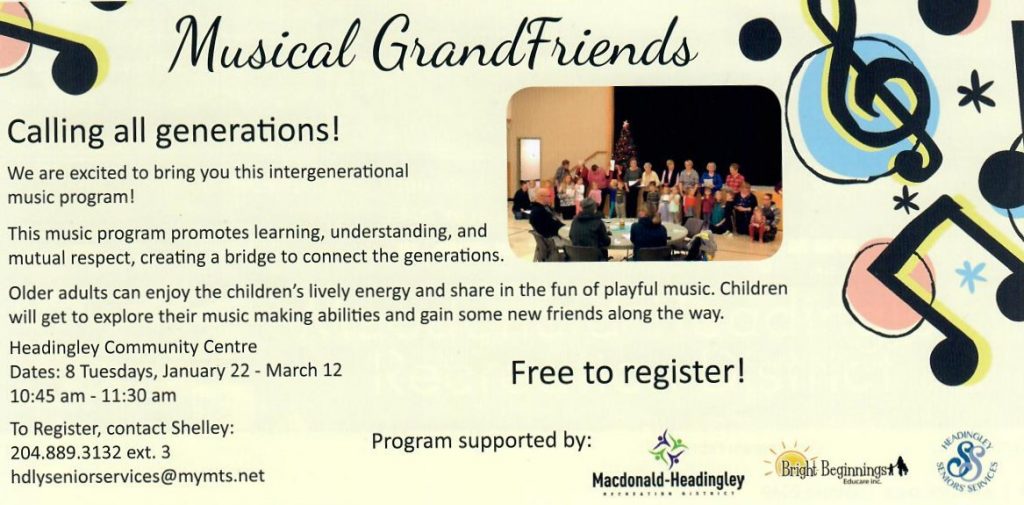 Lunch & Learn

Lunch & Learn brings together the element of good food, a friendly atmosphere and the opportunity to engage with others.  We will enjoy group games and try out local cuisine.  
Headingley Community Centre
1st & 3rd Tuesdays from Noon – 2pm
Call 204-889-3132 ext 3 to reserve your space and order lunch.  $8.00 per person.
Upcoming lunches in 2019:
March 5th: Medical Marijuana
April 2nd: Do I Still Need This Medication?