HSSI Senior Resource Coordinator – Term Position Opportunity
This one year term, part-time position (20 hours per week), is responsible for implementing support services and programs for older adults in the RM of Headingley in accordance with the mission and goals of the HSSI Board of Directors. Qualifications and requirements listed below:
Education/Certification:
Relevant post-secondary education or related experience, preferably with older adults or community development.
Experience in the non-profit sector is desirable.
Adult Criminal Record/Vulnerable Sector dated no more than 6 months from start date.
Valid driver's license with access to a vehicle.
Required Knowledge/Experience:
Older adult recreation program planning and services development, volunteer orientation and coordination and office management.
Skills/Competencies:
Effective communication and interpersonal skills, ability to work independently, leadership skills and proficiency with Microsoft Office.
Qualified persons are asked to submit resume to:  hdlyseniorservices@mts.net.  Only those chosen for an interview will be contacted.  Application deadline is March 19, 2018.
Welcome – Enrich your life with us!
We have been serving seniors in Headingley for many years. A coordinator keeps us organized and enthusiastic volunteers share their time and talents. We receive some government funding to offer services, we raise funds for our social activities and partner with the Macdonald Headingley Recreation District to offer fitness and arts programs. We encourage those 55 and older to join us for learning opportunities, social events, fitness and fun. Browse our website and calendar for what is currently happening.
Our Mission
To encourage seniors to maintain independent living and improve their quality of life by providing education, recreation, health and social opportunities.
Headingley 25th/Canada 150th
Thank you to all the volunteers and attendees who made July 1st an epic day in Headingley.  From the Raft Race at the start of the day to the Fireworks at the end of the day, it was a stellar celebration of our Rural Municipality and our country.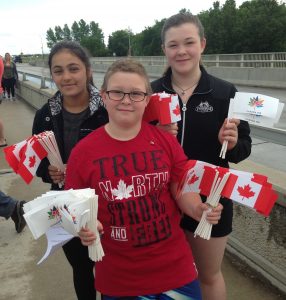 11th Annual Christmas Craft Sale
On October 13 & 14, 2017, HSSI held another hugely successful Christmas Craft Sale.  Thank you to all our many volunteers who are instrumental in making this the superb event that it is.
Headingley Community Foundation Supports HSSI