Active Living As We Age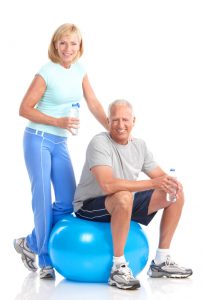 Take part in endurance activities such as walking and cycling at least 150 minutes per week, in sessions of 10 minutes or more
Do activities that improve strength at least 2 days per week
Do exercises or activities that enhance balance and flexibility
Being active every day is a step towards better health & body weight.
BE ACTIVE IN A WAY THAT SUITS YOU!
This will help ensure that you are active on a regular basis.
Here are some tips:
Endurance or aerobic activities should be moderate to vigorous in intensity. Examples: walking, swimming, dancing, aerobics, cycling, cross-country skiing. Try to take the stairs or walk whenever possible.
Do activities that increase strength and involve the major muscle groups at least twice each week. Examples: lifting weights or household items such as laundry or groceries, climbing stairs and doing wall push-ups.
Do activities to improve your balance every day, to help prevent falls. Examples: reaching, bending, Yoga, Tai Chi.
Learn more about active living:
Active Living Coalition for Older Adults:  www.alcoa.ca
Canadian Physical Activity Guidelines for Older Adults – 65 Years and Older:  www.esep.ca/guidelines
Canadian Centre for Activity and Aging:  www.uwo.ca/actage
Osteoporosis Canada:  www.osteoporosis.ca