WINTER MOBILITY DEVICE RESEARCH STUDY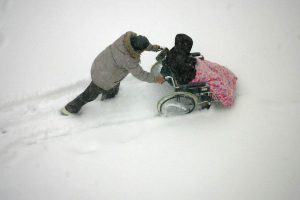 The University of Manitoba is conducting a research study to assist older adult mobility aid users to increase their community participation during the winter.
Participants needed for the study are community members, aged 70 or older, who use a mobility aid such as a cane, walker or manual or power wheelchair, and feel limited in their ability to go out in the winter.
The participant will work with an occupational therapist to identify community–based activities that he/she would like to try in the winter. Together, they will put a plan in place to participate in these activities over the winter.
If you are interested in participating in this study, please contact:
Jacquie Ripat at the University of Manitoba by phone at 204-789-3303 or email: Jacquie.Ripat@umanitoba.ca