Encore Health & Fitness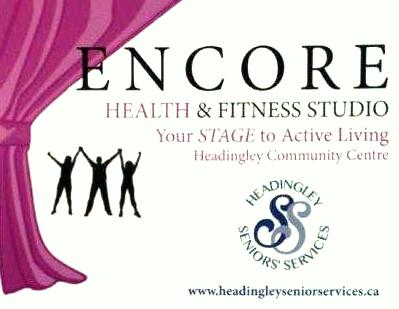 Encore Health and Fitness
In its ongoing commitment to supporting healthy people and a healthy community, Headingley Seniors' Services Inc. (HSSI) officially opened the Encore Health and Fitness Studio on October 01, 2014.
HSSI received a government New Horizons Grant toward an older adult fitness facility. The Rural Municipality of Headingley offered the use of the stage in the Headingley Community Centre at 5353 Portage Avenue. Through much work with Macdonald-Headingley Recreation District, ENCORE Health and Fitness was born.
REGULAR HOURS
9:00 am – noon Monday thru Thursday
1:30 pm – 4:00 pm Monday thru Thursday
7:00 pm – 9:00 pm Monday, Tuesday and Thursday
FEES
$60.00 / year
$10.00 / month
$ 2.00 / drop-in
The equipment available includes: – a Recumbent Bike, Bosu Ball, Free Weights, a Mini Trampoline with Stability Bar, Soft Shell Medicine Balls, Resistance Equipment, a Seated Elliptical, a Stability Ball, Exercise Mats, a Treadmill, a Hoist Multi-Gym and an Exercise Bench. The equipment is available to participants 18 years of age and over and who have taken the Safety Orientation.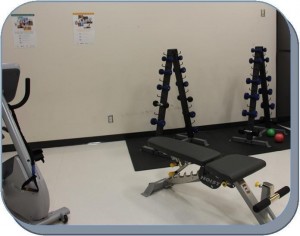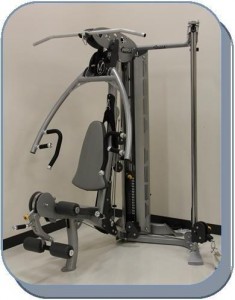 Making the Most of Encore Fitness Centre
These programs are support by the RHA
Encore Studio Classes Offered in Spring 2018 MHRD Program & Community Resource Guide:  Free to All
Functional Fitness with Instructor Andrew Schindle:  Anything you do in the gym should improve the way you move in day to day life, decrease your chance of injury and improve your joint health.  This workshop will teach you the basics of how to use the equipment in the gym to improve your mobility, decrease your chances of injury in day to day life and reduce joint pain and discomfort.
Location: Encore Health and Fitness Studio @ HCC
Day: Wednesday, April 18th
Time:  9-10AM
Fee: FREE!
Registration Deadline: Wednesday, April 11th
Myofascial Release with Foam Rollers with Instructor Andrew Schindle:  Improving mobility has become one of the largest challenges for older adults due to the loss of collagen in the muscle and the tightening of the fascia that surrounds the muscle.  Foam rollers provide the opportunity to increase mobility resulting in a more functional and safe movement pattern in your fitness and activities of daily living.  This workshop will teach you the basics of how to use the foam roller and incorporate it into your fitness routine.
Location:  Encore Health and Fitness Studio @ HCC
Day:  Wednesday, May 16th
Time:  11:30am – 12:30pm
Fee: FREE!
Registration Deadline:  Wednesday, May 9th