THERE ARE MANY BENEFITS FROM PHYSICAL ACTIVITY

Benefits increase as physical activity increases
If you are not very active and you start increasing your physical activity, you will start to see benefits in 4-12 weeks.
Start slowly and gradually build up.
Physical activity does not have to be hard to improve your health.
Take a look at the benefits you can achieve from physical activity.
Benefits when starting out:
Meet new people
Feel more relaxed
Sleep better
Have more fun
Benefits from regular physical activity:
Continued independent living
Better physical and mental health
Improved quality of life
More energy
Move with fewer aches and pains
Better posture and balance
Improved self-esteem
Weight maintenance
Stronger muscles and bones
Relaxation and reduced stress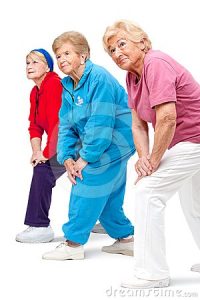 Research tells us that being active reduces the risk of:
Heart disease
Falls and injuries
Obesity
High blood pressure
Adults-onset diabetes
Osteoporosis
Stroke
Depression
Colon cancer
Premature death
(Canada's Physical Activity Guide to Healthy Active Living for Older Adults)
Handy information at: www.senioresources.com